Sights
Everything to see and live nearby Agritur Calvola
Medioeval Village of Canale

The medieval village of Canale 500 mt. from the Agritur Calvola is a major cultural center, now also known abroad, where to find the "Artists's House" founded by Giacomo Vittone. Inside there is a permanent exhibition of agricultural tools of Tenno.
During the summer "Artists's House" also organizes conferences, visits school with academies and art institutes, as well as continuous exposures, dedicated to visual masters of yesterday and today.
Varone Waterfalls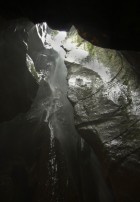 Varone waterfalls are just 6 Km from Agritur Calvola.

Are about 100 meters tall, and originated from the Magnone stream down to Garda Lake. Its waters are fed by groundwater losses of Tenno Lake, a short section then goes into the mountain coming to form the waterfall.
The name originates from the town called Varone.

Sight of the waterfalls can attend a performance very attractive.

The Tenno Lake, with its intense colors, formed by a landslide dam, almost 1000 years ago, today is a pleasant place to stroll, admire the landscape and even swim in the summer time. It takes about 20...
Rifugio San Pietro (St.Peter Refuge)
From the Agritur Calvola continues to climb by car up to the hut in about 10 minutes.
You can also use the trail 406 in about 1.30 to 2 hours or a nice long road through the woods.
After leaving the machine in a small parking, continue walking in the woods for about 20 minutes.
At about 1000 meters is an ancient stone gateway, then opens a clearing with one of the most breathtaking landscapes. On a natural balcony you can admire an ancient church with a spectecular view of the Garda Lake.